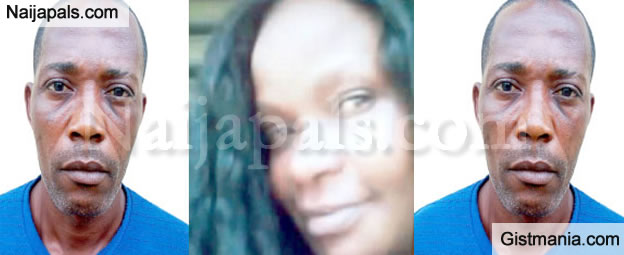 A 45-year-old father of five, who allegedly battered his girlfriend to death has been arrested by the police in Lagos state. The sadi incident happened on the girl's birthday which took place on the 28th of July.
The deceased, identified simply as Happiness, visited her lover's home at 5/7 Michael Osisipi Street, off Banjo Oyewele Street, Ago Palace Way, from where they went to a club around the area to celebrate her birthday. But trouble started after the suspect, Victor Umeh, sighted Happiness discussing with a man, discovered to be her former boyfriend.
The discussion, according to Umeh, a trader at Ladipo Market, lasted over 15 minutes. He reportedly left the club in anger, leaving the deceased behind. Time was 12.45a.m.
On realising that Umeh had left, Happiness went to his house, where an argument that degenerated into a fight ensued. Her shout for help alerted neighbours, including a gateman, identified simply as Adamu. On reaching Umeh's flat, he was reportedly seen trying to hide a substance, which turned out to be late Happiness' mobile telephone.
The curious neighbours were said to have searched the flat for the victim, only to discover her lifeless body behind Umeh's window. Policemen at Ago Division were immediately contacted, consequent upon which Umeh was arrested, from where he was transferred to the State Criminal Investigations and Intelligence Department, SCIID.
Investigation revealed that Umeh's wife and five children travelled to his village in Orumba South Local Government Area of Anambra State.
After killing the girlfriend, Umeh was said to have contacted his wife and told her to come and move his property to the village.
One of the neighbours, who spoke with us, said: "Our gateman allowed her inside that night because she was seen with Victor the previous day. The gateman was first alerted by the shout for help and by the time he got close to the window, he saw somebody running. "Her desperate shout for help was intensive, but with time it became faint until it stopped. He tried to escape and hide the deceased phone on a fence so as to make it difficult for the Police to trace her death to him. If he had succeeded we would have been in trouble."
However, during the investigation, the suspect denied being responsible for Happiness's death. Rather, he claimed he left her behind at the club, adding that he did not know how her corpse found its way behind his window.
He admitted having met her last Wednesday at Cele Bus Stop, from where he brought her home. Police sources hinted that marks of violence were found on the deceased's body. Policemen at Ago Division took the body to the Isolo General Hospital Mortuary. The police have commenced an investigation into the matter.
---
Posted: at 2-08-2017 02:29 PM (4 years ago) | Hero