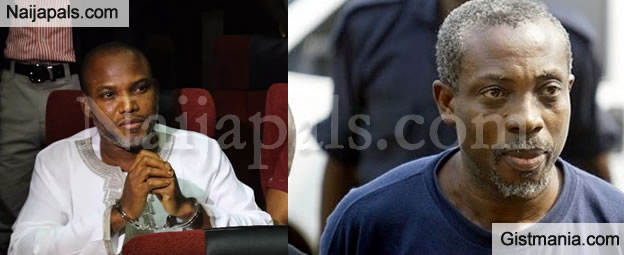 Founder of the Movement for the Actualisation of the Sovereign State of Biafra, MASSOB, Ralph Uwazuruike, has claimed that leader of the Indigenous People of Biafra, IPOB, Nnamdi Kanu has no real agenda for Biafra.
Uwazuruike, who said this while addressing his followers in Owerri, also challenged the IPOB leader to submit himself to security operatives if he is a true freedom fighter.
He maintained that Kanu and IPOB's activities were counter-productive to the Biafra struggle, stressing that it will lead to an unplanned war.
According to Uwazuruike, "A real freedom fighter submits to arrest but Kanu has told his members to burn down the country if he is re-arrested, a true indication that he was paid to destabilise MASSOB".
The MASSOB founder also berated the Federal Government for making the IPOB leader popular.
Uwazuruike noted that Kanu would not have gained such "notoriety" if he had simply been ignored.


Quote

"The IPOB has no agenda and I advise Igbo leaders to condemn its activities.
"Nnamdi Kanu has no agenda and he is only thriving on the relevance given to him by the government.
"I recruited him and I know his capacities; he is not a leader,"

he said.