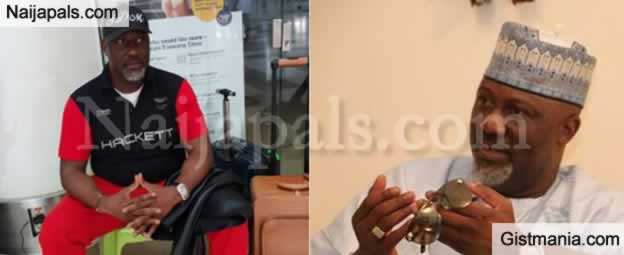 There was some mild drama yesterday as a controversial senator representing Kogi state at the National Assembly, Dino Melaye, was arrested as he attempted to leave the country.

There was also a raid of his house which he cried out against wondering what he did wrong.

According to the Police, the raid was necessary as Melaye was suspected of owning illegal firearms, some of which were purportedly kept in his house.

According to News Agency, the Nation, the Police through Force Deputy Spokesman, Adeniran Aremu said;

"Our action was prompted by the fact that he was invited in a case of unlawful possession of firearms and other crimes.

"The police had invited him on more than two or three occasions but he failed to honour the invitations. That is why we are there right now.

"You know when a case is in court, there is no law that stops you from further questioning if you need to answer question on the suspects.

"There is no law that stops the police from further inviting him or asking question about the case."

Dino Melaye has so far maintained his innocence stating that he is uninvolved in all the scandal that he has been linked with so far blaming it on his political enemies.
---