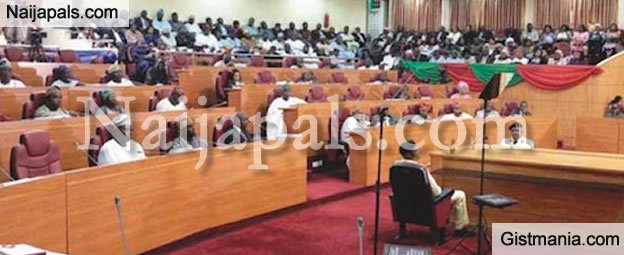 President Muhammadu Buhari has formally requested the House of Representatives to include the procurement of the Super Tucano aircraft to fight insecurity in the country in the 2018 Appropriation Act, after authorising the withdrawal of $462m from the excess crude account for the procurement.

In a letter read by the Speaker of the House of Representatives, Yakubu Dogara, Mr. Buhari said he granted the approval of the amount in anticipation that the National Assembly would have no objection.

"In the expectation that the National Assembly would have no objection to the purchase of this highly specialized aircraft, which is critical to national security, I granted anticipatory approval for the release of US$469, 374, 470.00."

Mr Buhari transmitted the letter to the National Assembly leadership on April 13 and it was received in the Office of the Speaker of the House of Representatives on April 17.

It shows that Mr Buhari had already given anticipatory approval for the withdrawal of $496,374,470 (N151 394, 421, 355) from the ECA for the purchase of the aircraft and was only seeking the inclusion of same in the 2018 Appropriation Bill that the National Assembly is currently finalising.

President Buhari approved the withdrawal of $462 million from the Excess Crude Account (ECA) to pay the United States for the procurement of 12 Super Tucano aircraft, without a prior approval of the National Assembly.

Reacting to the executive communication, The house chairman on Public accounts, Kingsley Chinda (PDP, Rivers) moved a constitutional point of order, citing Section 80 and 81 of Constitution which talks about withdrawal of funds.

He said Nigerian law does not recognise anticipatory approval and questioned the president's action.

"If we fail to approve, what happens?" he asked.

He added that it was a clear evidence of what had been happening in this administration and called for the impeachment of the President.

"We should commence impeachment of Mr. President."
Another lawmaker, Sunday Karimi (PDP, Kogi) also condemned the President's action and described it as an afterthought.

"Since he is trying to go through the back door to seek our approval, he should be ready to face the consequences"
The speaker, however, said the communication by the President constitutes its first reading and would only be debated on the date for the second reading.
Posted: at 24-04-2018 05:09 PM (2 years ago) | Hero