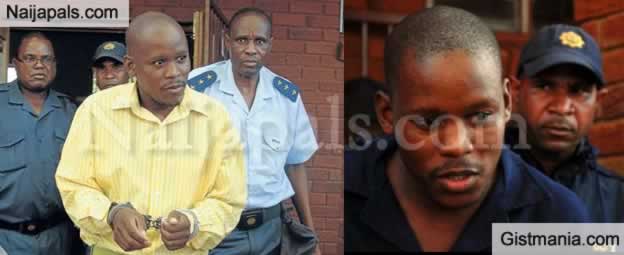 A South African man identified as Lesiba Kekana committed a despicable act in Limpopo after he called his wife he accused of infidelity on phone, just to listen to him killing their children.


Lesiba Kekana was arrested and arraigned before the court. He was sentenced to 52-years in prison after he was found guilty of slitting the throats of his four sons to death in 2015.

Kekana's lawyer reportedly argued that the murderer (Kekana) has been grief-stricken after committing the heinous crime, for which reason his sentence should be reduced.

However, having heard the argument of the lawyers, Judge Tati Makgoka who spoke on behalf of the five-member panel of judges got angry and ended up increasing the sentence from 52 years to life a imprisonment.


According to Judge Tati Makgoka, in 2016, The judge that gave Kekana 52-year in prison ruled that knowing Kekana had "shown no mercy" and "slaughtered" his children like "sheep", he could not impose a heavier sentence because when he pleaded guilty, Kekana had invoked a section of the Criminal Law Amendment Act that relates to murders that are not premeditated.

Kekana lawyer and the appeal court disagreed with the ruling of Judge Tati Makgoka, but he said the facts of the case in question show sufficiently that the crime was premeditated.


Quote

"He used his children as pawns to be sacrificed in his battle with his wife. When considering an appropriate sentence' the lodestar remains the enduring triad — the crime' the offender and the interests of society."



He added in the ruling that:

Quote

"It is difficult to imagine a more callous and despicable deed than a parent killing his own children. The sentence that is imposed should… reflect the community's indignation over [the father's] ghastly deeds.

"
---