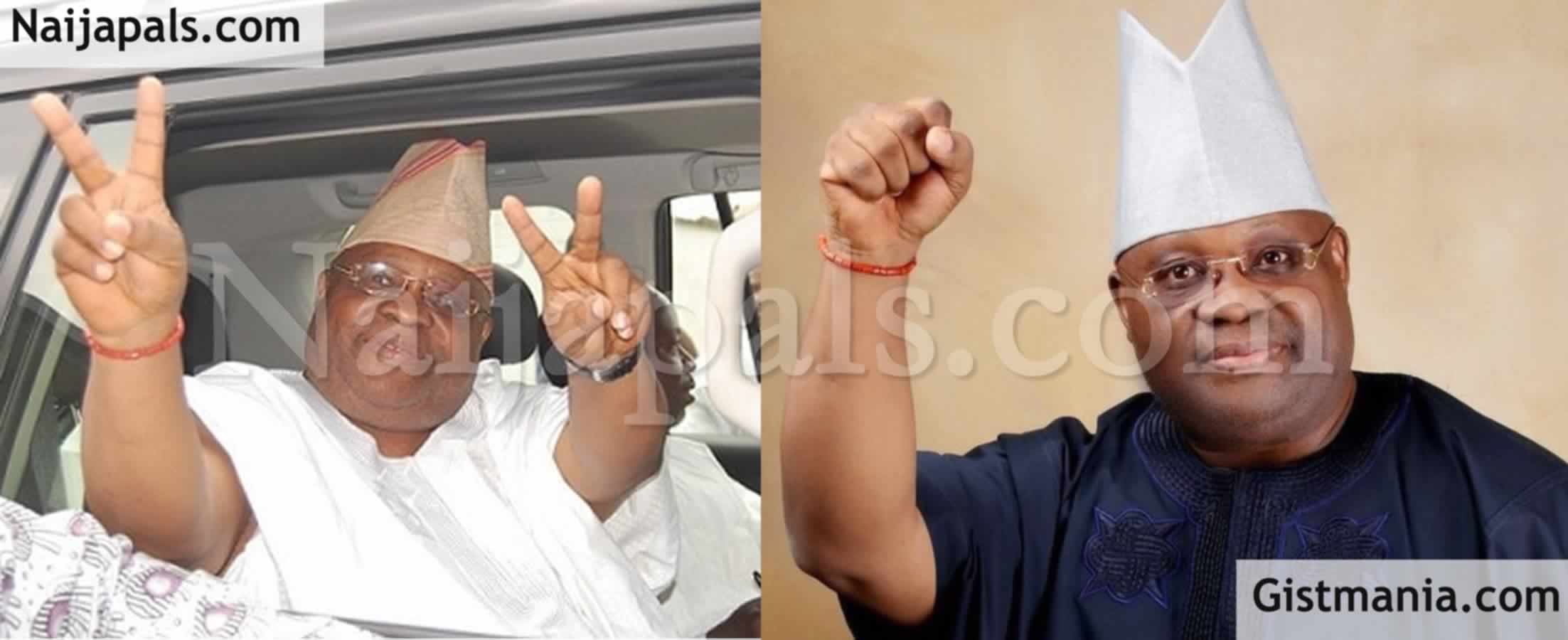 The People's Democratic Party (PDP) in Osun State has won 25 of the 26 House of Assembly seats while the leading opposition party in the state, the All Progressives Congress (APC) won one.

The official result announced across the collation centres in the state showed that the PDP won the majority of the seat while that of the Boripe/Boluwaduro constituency earlier suspended till Sunday was won by the APC.

The result of the Ife-Central and Ife-East constituency was announced at INEC head office in Osogbo due to what the commission ascribed to security issues.

PDP won in Ife-Central, Ife-East, Ilesa-West, Ilesa-East, Atakumosa-East/Atakumosa-West Ifelodun, Egbedore, Ife-South, Ife-North, Ola-Oluwa, Irewole/Isokan and Ila state constituencies.

Other constituencies where the PDP won include, Ifedayo, Osogbo, Olorunda, Irepodun/Orolu, Obokun, Oriade, Iwo, Odo-Otin, Ayedire, Ede-North, Ede-South, Ayedaade and Ejigbo state constituencies.

The APC was declared the winner in Boripe/Boluwaduro constituency which was eventually announced this morning.

Meanwhile, the Governor of the state, Ademola Adeleke has expressed his heartfelt gratitude to the people of the state over another landslide victory of the Peoples Democratic Party (PDP) at the just concluded state assembly elections.

In a statement issued on Sunday morning, Governor Adeleke celebrated the uncommon and unprecedented chain of victories the PDP had secured in Osun state from July 16, 2022, to February 25th, 2022 and the huge victory of Saturday, March 18th, describing the outcomes of the elections as "complete embrace of PDP by Osun people for good governance and responsive leadership.



Quote

" My good people of Osun state, you have honoured me and my party with another remarkable victory at the assembly elections. You have passed an excellent vote of confidence in my administration and my party by a series of electoral mandates in the last three elections.

"I went around the state with my scorecard under 100 days and you responded by endorsing my party's candidates for legislative offices.

" You listened to my request for assembly members of my party who will work with me to deliver our five-point agenda. Your trust in me to deliver on our election promises has been expanded and strengthened.

Your verdict on my performance is loud and clear- you have approved of our people-focused governance and our demonstrated will to resolve all outstanding challenges inherited from the previous administration.

" I have come to say a big thank you. Like I used to sing, 'Ese Eku Itoju Min, Momore'. We will not take your approval, endorsement and solid backing for granted.

"Myself and my team will rededicate ourselves to the urgent task of state building, of service delivery and of delivery of dividends of democracy.

" Because your electoral endorsement is uncommon in the political history of Osun state, my performance must be extraordinary. And so it shall be now and all the time. Thank you for giving me all that I need to serve you more.

" To my brothers and sisters in opposition, I extend hands of fellowship and brotherhood. Join me to build a new Osun state. Support the will of the people as repeatedly demonstrated in the last three elections. As genuine democrats have no power except what the people will, I urge all lovers of democracy to enter the Imole train.

" Osun people need all, within and outside her political class, to unite for state development. You will find in me a listening and responsive State Chief Executive. Our administration will remain committed to open, consultative, inclusive and transparent governance.

"We will govern with fear of God under rule of law for the collective interest of all Osun people irrespective of political or religious affiliations. Let all rest assured that there is no victor, no vanquished",

Governor Adeleke posited.
Posted: at 19-03-2023 03:45 PM (1 week ago) | Addicted Hero