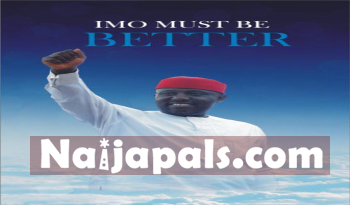 While speaking at the launch of Operation Rescue in Imo state two days ago, Imo State Governor made the comment below...
I want to invite all Criminals in Imo State. If you are a Criminal, a potential Criminal, former Criminal, I want to set a date where I am going to have a private meeting. Me and you! So we can discuss on the way forward. You are our children; we do not hate you. We don't want to kill you. We don't want to destabilize your life but, we want you to have a change of attitude. While we are working that Imo must be better, we also want to make sure that your life will be better. So very soon, I am going to call on an emergency meeting of all Criminals in Imo State and all the Service Chiefs in Imo State to have a one on one talk. Nobody will be there. We shall sort out the Security problem in Imo State.


To ME!!! This Governor is such a highly naive and deranged man(If possible stupid man)...
...na so, dem suppose to handle security problem for civilised country?

......chaii
Posted: at 3-10-2011 09:03 PM (11 years ago) | Gistmaniac