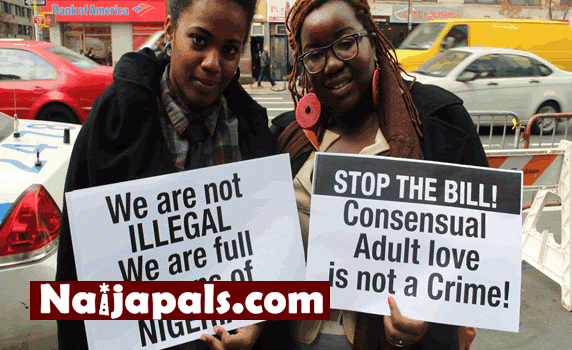 Homosegxwals in Nigeria are not happy with the government, they said in a statement on Tuesday, following a meeting they held in Ibadan, the Oyo State Capital, southwest Nigeria.
In a statement titled: "Same sex prohibition: Group flays government on anti-citizen laws and abuse of human rights", the group known as "The Right Defense", said their members have been harassed and humiliated in recent times across Nigeria.
During their meeting in Ibadan, the group said it "voiced out and maintained its position on the undemocratic attack on its members and anti-oppressors against Nigerian people."
The group whose members do not use their full names said because of arrests of its members by policemen and intimidation by the government it decided to speak up to express feelings towards defending human rights for all Nigerian citizens without discrimination of any sort "as it concerns the homosegxwality and transgender saga in Nigeria."
The statement was signed by Salawu K., Anisere A., Kehinde A., Orilonise I. A., George U., Olatoyan T., Ogunshowo L., Penu Z. K., Ogunleye A., Adenola B. S., Tobiloba F., Kazeem A. O. and Babatunde Ayinde R., who are members of the group but do not disclose their full identities.
"Everyone should have the liberty to life and choice of living as endorsed by the United Nations on universal declaration for freedom of expression and choice for all nationalities," the group said.
Members of the group have been declared wanted by the police, the statement read.
"Amongst many others was the case of Mr I.O. Ibrahim, whose home and family were attacked and raided by unidentified security agents, thugs and still declared wanted by the agents some months ago He is currently living in abroad and struggling for human rights and egalitarian society globally," the statement read.
The group also condemned "the dastardly act perpetrated by group of youths forwho molestated and intimidated four Nigerians in Ekwe village of Njaba LGA, Imo State."
They were attacked, stripped and paraded across the cities over accusation of indecent practices- homosegxwality.
The group also emphasised the inability of the Nigerian government to judiciously utilise the nation's economic gains for the development of the nation and unfairness and inequality in the distribution of national resources.
The group said instead of wasting time and energy on homosegxwals, the Nigerian government should rather provide the dividends of democracy and accountability to its citizens.
Posted: at 7-05-2013 05:11 PM (10 years ago) | Hero