«§» 20 June 2014



A security source disclosed that out of 486 suspected insurgents arrested on Sunday in Abia State, 87, including a kingpin, were Boko Haram members.

Hundreds of travellers, who were passing along Enugu – Port Harcourt Expressway in several buses, were detained in Aba town on suspicion of being linked with the dreaded sect.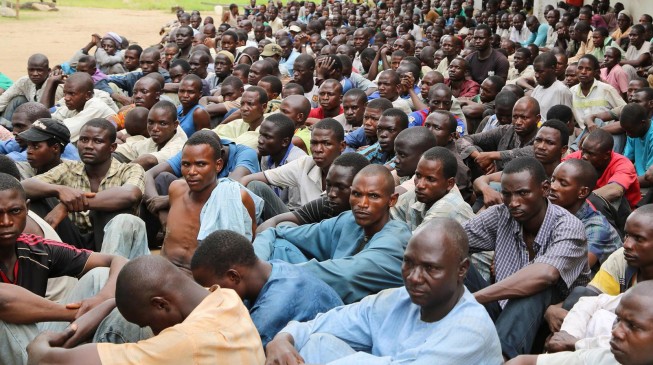 Director of Defence Information Chris Olukolade later stated that the "terror kingpin" was found among them without providing his name.

Premium Times reports with reference to its security source that 86 more people have been identified as suspected terrorists. The source was quoted saying:

"But to be double sure, we have called for additional screening."

He also revealed that those arrested did not have any weapon on them, still military spotted some body marks associated with terrorists on them.

Like Olukolade, the source refused to give the name of the kingpin, who was reportedly taken into custody and separated from other suspects, however he said that others were being held at 144 Battalion, close to Umuahia in Abia State.

The source also spoke about the details during the interrogation of the kingpin:

"The kingpin is making very useful statements. Initially, he was trying to deceive the interrogators until he was confronted with fresh info."

Meanwhile Olukolade refused to comment on the information learnt from the source, when contacted by the Premium Times saying that the screening was still in process.
---