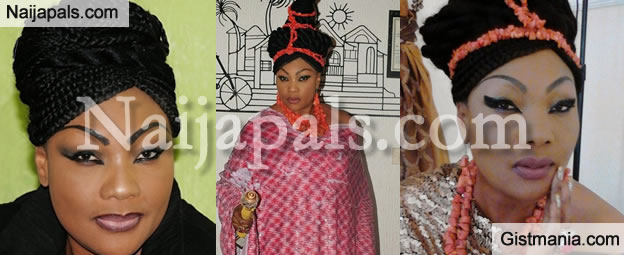 Top Nollywood actress and evangelist, Eucharia Anunobi has in a new interview with NewTelegraph talked about her now 13 year old son Raymond Joshua Chimunonso Chimaobi Ekwu, how his father has refused to be responsible and how she copes with being a single parent. Very interesting 'sturvs'. Here are excerpts:

Your fans have been missing you, what have you been doing with yourself?

A lot of people have asked the same question. God Almighty said in the book of First Samuel 2: 20-30, "the Lord God is God of knowledge". I want to correct an impression because the information is that she is no longer acting because she is a minister of the gospel of Jesus.

I am saying no, the movies are there, I have been working and my movies are all out. The reason why a lot of people are not seeing the movie is because they aren't being advertised the way they used to be advertised in terms of stimulating people to know that something new is out on the board. And God never said being a minister of the gospel prevents anyone from working.

One of your contemporaries said that Nollywood producers are frustrating the older artistes; do you agree?

Well, I do not know about anyone frustrating the older artistes because for me, nobody has frustrated me and nobody will frustrate me because you cannot have God and somebody will frustrate you. And I will not say anybody is frustrating anybody. In life, there is season and time for everything.

What is the name of the church or the branch you pastor?
I am an associate pastor with the Fresh Oil Ministry International Church at Egbeda in Lagos. I am an ordained evangelist as well as an apostle; I am a convent speaker in and around the country. I had gone to minister in the United States of America, a lot of West African countries, and I have ministered in a lot of churches in and outside the country and some churches and organisations invite me to be their speaker at their various meetings.


How is your son doing? He must have really grown now.

Very well, we thank the God Almighty, the Lord has been faithful.

What is it like being a single parent?

It was not a deliberate choice that I have made, it came by chance, it came by mistake. God does not kill His children who have made mistakes. He would rather sustain them and tell them that He is the owner of all things. The Lord has been sustaining me as a single parent I don't think about it, all I know is 'God, you are the one that created me and the child that you gave to me'. So whatever that is needed of me, it was a wrong choice that I made.

Have you tried to reconcile with the father of your son?

When somebody says that I do not want to be a responsible father what do you do? You don't take a horse to the river and force it to drink.

Is there any plan of settling down, your ideal man?

Of course, why not? Every woman says I want tall black, handsome man. We all need good things. All the good things every normal woman wants, I want it too. He must be somebody who has the spirit of God, someone who has Christ as his backbone.

You once said that your intimidating profile tends to discourage men from asking your hand in marriage; what is happening to your love life?

I can't remember ever saying such a thing. I don't know about men being scared of me (chuckles). Well, I will take it that what you are saying is that I'm not in a relationship. Of course you know I would not want to discuss my private life. But I have to tell you what I am doing and what is not happening, I believe in things that are incubating; if it's meant to come out, it will come out. A lot of people do not know of my commitment to my Christian life too.

Do you see yourself quitting acting and devoting your time entirely to the ministry?

The two works do not clash because there is time for every one of them. They are not a daily job as it were; you are not acting every day, you need the word of God every day. You need the prayer to live, for your own deliverance and liberation. Now when it comes to the work, there is time for it.
Posted: at 22-11-2015 07:05 PM (5 years ago) | Gistmaniac