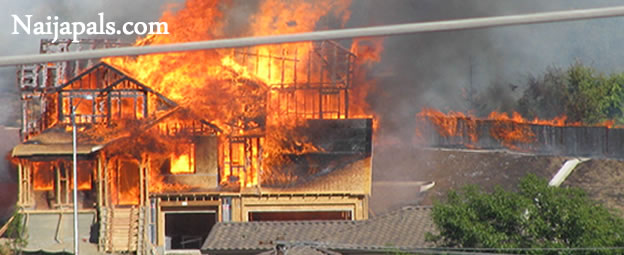 There was panic and apprehension among the resident of the WRPC in Warri, Delta state after a fire on early Wednesday morning fire, destroyed the part of a popular bank building in the area. A part of the Fidelity bank building, located within the Warri Refining and Petrochemical Company (WRPC), was razed by an early Wednesday morning fire, causing panic and apprehension among the resident of the area.

According to Daily Sun, although the cause of the fire from a caravan operating outside the premises of the bank was not known as at the time of filing this report, it had been established that it was as a result of the early morning harmattan haze that fire spread to the bank building.
It took the timely intervention of some members of the Independent Products Marketing Association of Nigeria (IPMAN) and the fire service department of the nearby WRPC to put off the raging fire before it would raze down the entire bank building.

A source close to the scene of the incident, who gave his name as Joseph Onoriode, disclosed that the fire from the caravan used as a makeshift office of a marketer which shared a fence with the bank building, was what actually spread to the bank.

According to him,

Quote

"As you can see, the harmattan has been very severe especially in the past one week or so. And from what we gathered it was the electrical fault which sparkled off fire from the caravan that was aided by the harmattan haze which affected the bank building".
"But thank God we are able to come to rescue of the bank before it escalate further. It took the collective efforts of both the IPMAN members that were close by and the fire fighters of the WRPC to bring the fire under control".



Normalcy returned to the area when Daily Sun visited the scene at about 5:00p.m. on Wednesday.
---