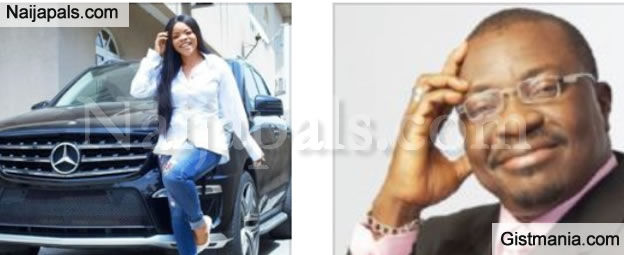 Comedian Alibaba has reacted to a post by a Zimbabwean media personality identified as Miss Vimbai who called out female celebrities like Laura Ikeji, who flaunt their luxurious lifestyle on social media with claims that they achieved it all via hardwork.
Comedian Alibaba, via an Instagram post buttressed the point made by the lady by speaking of how such people who made money via shady means are actually the ones who love to act as if they work the hardest. His post below.
"People have been shaking tables… this one just came and kuku removed legs from the table. Let every thing kukuma fall off the table. I have renewed respect for few. She just joined them. Nonsense. No means of livelihood. They are driving SUV. No job. But them blow. No career. Because someone carry her. But they will be telling the young girls who are waiting to get a 9-5, How to work hard and stay focused. Eyes on the prize. Don't let them men confuse you. It's like a Yahoo Yahoo guy advising a young man who is washing his car at a car-wash on dignity of labour. Na wash. You go into politics, 4 years down, you have a mall, house in choice areas. You have a fleet of cars. And you are asking young men what is keeping them from settling down with one woman. Traditional and white Wedding… No be movie ticket ooo. Try am e go be like film. No track record of work and earning your sweat. You dey advise people. The lady who hops on a plane to Europe, every 2 months, jumping from shop to shop, looking for bargains, and pulling suitcases on high-streets just so she can make something never advise person… Na the one wey know Excellency. (Biblical knowing). After they will come and testify in church and make all others look like God is selective. And after those all the runs they will start running their mouths. One say in first class one day and her aunty saw her as she boarded a plane to Abu Dhabi. "WHAT ARE YOU DOING HERE?"… Degwo ma. "VRENDO. HOW COME YOU ARE SITTING HERE?". My Isoko is not too bad. But from what I gathered, her Mum is a nurse, struggling to keep things together. And she wanted to know if she was done with NYSC. Emmmm… emmmm. Its like… its not… The oga she was flying with did like he didn't know what was going on. After now she will tell people it's the Lord's Doing. Something is doing you".

Problem with this article? Please contact us