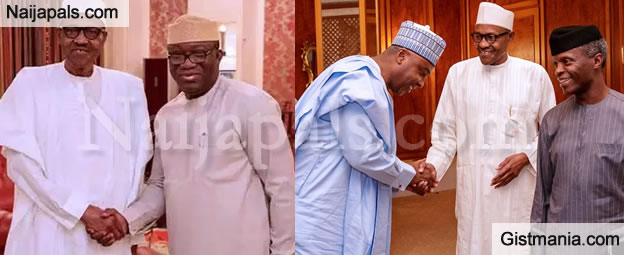 Reports have emerged from the state villa Aso Rock about a closed door meeting between the President, Muhammadu Buhari, His Vice, Professor Yemi Osinbajo as well as the Senate President, Bukola Saraki and some governors on Thursday.

The governors at the meeting included Katsina State governor, Aminu Masari, Zamfara State governor and Chairman of Nigeria Governors Forum, Abdulaziz Yari, Kebi State Governor Atiku Baguda, Ogun State Governor, Ibikunle Amosun as well as the newly elected governor of Ekiti State, Kayode Fayemi.

Initial information that trickled out of the venue revealed that although President Buhari had already closed for the day, he remained in his office to meet with Saraki, Osibanjo and the Governors on ground; the Agenda of the meeting has not yet been revealed.

The Executive and the legislature has been at loggerheads since the advent of this oresent administration in 2015.

While the Senate President has been at the mercy of anti-graft graft agencies from which the Supreme Court has saved him, the legislature has had a running battle with the executive regarding the ineptitude, inefficiency and lack luster attitude of the President's cabinet.

The 2016, 2017 and 2018 budget have also been sore points of disagreements between the two arms of government with accusations of budget padding and others.

The 2018 budget which was grudgingly signed into law by the president cutting funding to some critical areas while the National Assembly included projects of their own within the budget. While signing the budget into law, President Buhari had aired his displeasure and promised to submit a supplementary budget to the house.

There was a rowdy session on Tuesday in the Senate when the supplementary budget proposal promised by President Buhari was submitted to the House.

President Buhari had told National Assembly to take out the allocations in their constituency projects to fund N242.4 billion INEC budget for the 2019 elections.

The meeting in the Presidential Villa lasted about 30 minutes but the Senate President declined to talk to State House correspondents who had approached him to comment on the agenda of the meeting.

The Governor- elect Of Ekiti State Dr. Kayode however commented that they came to celebrate with the President over his (Fayemi's) election victory while displaying his Certificate of Return from INEC; he said further that Ekiti State election had gone and that the All Progressives Congress will also take over Osun State.
---