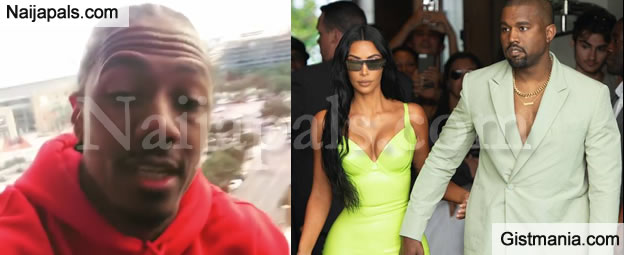 Kanye West is calling people out on social media over their comments about his wife.
On Thursday, the rapper posted a series of videos on Instagram in which he "expressed some things that were not sitting right with my spirit.

"Now that I'm up out the Sunken Place I can think and I can just be Ye and just express how I feel," he added.




Watch;


He then went on to address some recent concerns, including the issue of Nick Cannon publicly referencing that he used to date Kim Kardashian.

"If someone brings my wife up, you say, Hey, I respect that man, I'm not speaking on that," West said to Cannon. "Don't be making no suggestions, like nobody f***ed my wife."


West's next target was none other than Drake and the controversy over the diss track on the Pusha-T song West produced earlier this year.

"Now, if I wasn't in a medicated state I might've had the wherewithal to say, 'Hey Pusha, don't diss Drake on my beat. And I spoke about that and I took accountability for that," West said.

He continued, explaining that it doesn't "sit well with my spirit" that people have been spreading rumours that Drake slept with his wife, and that the Canadian rapper hasn't responding, apparently allowing the rumours to gain traction.

"If I had a girlfriend from Chicago, her name was Renita, and they you was married to Rihanna, I wouldn't make no song called 'RiRi'," West said, referring to Drake's song "In My Feelings", about a woman called Kiki. "You're too smart for that, bro."


West continued in the next video, telling Drake, "Don't speak on nobody from my family, nothing that could be even mentioned with my wife. Period. We don't have to talk again."


"Nick Cannon, Drake, Tyson Beckford, all that wasn't sitting right with me," he concluded.

Earlier on Thursday, West suggested that social-media platforms should offer users an option to shut off like and follower counts due to their "intense negative impact on our self-worth."

One person who's taking West's threats with a grain of salt is Nick Cannon, who had some choice words to share when TMZ caught up with him.

"Welcome back Ye, from the sunken place," the former "America's Got Talent" host says, sending West his "love and respect," adding, "But I honestly gotta say this, my dude: I have never said anything disrespectful or harmful, in my opinion, to your marriage or your union… But you are not gonna tell me what I can and cannot say." Watch:




Published at:
08:35 AM, 21/09/2018 (4 months ago)
Author:

success Xenab
Problem with this article? Please email reporter[at]naijapals[dot]com or visit our contact page
---