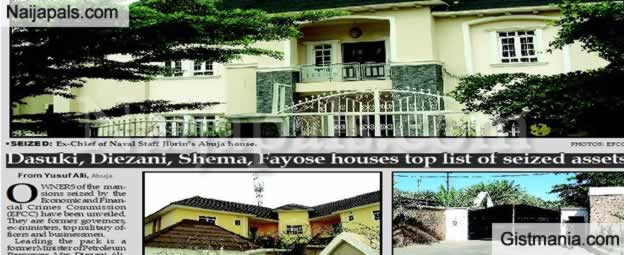 The Economic and Financial Crimes Commission has disclosed names of politicians and military officers whose properties have been seized over their alleged involvement in corruption.

Owners of the mansions seized by the Economic and Financial Crimes Commission (EFCC) have been unveiled, according to a report by The Nation. The owners include former governors, ex-ministers, top military officers and businessmen.

Leading the pack is a former Minister of Petroleum Resources, Mrs. Diezani Alison-Madueke, who has forfeited some prized assets. Lost to the Federal Government by the ex-Minister are a multi-story building in Banana Island Foreshore Estate in Ikoyi, Lagos; a real estate comprising six flats in Ikoyi and an estate of 21 mixed housing in Yaba, Lagos.

Many properties allegedly linked with Diezani have also been placed under interim forfeiture by the anti-graft commission. Also, the EFCC has secured the final seizure of Flat 7B at Osborne Towers in Ikoyi, Lagos where $43.45 million cash was recovered. The embattled former National Security Adviser, Col. Sambo Dasuki, has two properties in Kaduna and Abuja temporarily forfeited to the government.


Also, a former Managing Director of PPMC, Haruna Momoh, who is overseas, loses two mansions in posh Maitama District to a temporary forfeiture order.

Some ex-governors and former ministers whose assets have been placed under interim forfeiture are Ibrahim Shema (20); Ayodele Fayose (three); Babangida Aliyu (two); Bello Mohammed (ex-PDP National chairman) – one; Iyorchia Ayu (one); Isa Yuguda(one) and Abba Moro (one).

Others are ex-Managing Director of Platinum Multi-purpose Cooperative Society Limited Mr. Michael Osasogie Obasuyi, who bought 134 buses, 20 houses with N11.4billion slush cash.

The highlights of the forfeited assets were contained in a document, which The Nation stumbled on.

According to the Acting Chairman of EFCC, Mr. Ibrahim Magu, about 407 mansions were seized by the agency from 2015 to 2018.

He said:

Quote

"Hundreds of properties such as filling stations, petroleum products, land, jewellery, automobiles, real estate, vessels, hospitals, company shares and heavy machinery and broadcast equipment, have been seized from corrupt elements between 2015 and 2018.

"From 2015 to 2018, 407 mansions were seized, 126 have been forfeited finally and 281 are under interim forfeiture.

"Nine filling stations were seized and placed under interim forfeiture. Lands seized sums up to 98, of which 56 are under interim forfeiture while 42 have been forfeited finally to the Federal Government."



The document indicated that the EFCC is empowered by the law to place all suspicious assets under Interim Assets Forfeiture – in line with Sections 28 and 34 of the EFCC (Establishment Act) 2004 and Section 13(1) of the Federal High Court Act, 2004.

Section 28 of the EFCC Act reads:

Quote

"Where a person is arrested for an offence under this Act, the Commission shall immediately trace and attach all the assets and properties of the person acquired as a result of such economic or financial crime and shall thereafter cause to be obtained an interim attachment order from the Court."



Section 13 of the Federal High Court Act reads in part:

Quote

"The Court may grant an injunction or appoint a receiver by an interlocutory order in all cases in which it appears to the Court to be just or convenient so to do.

"Any such order may be made either unconditionally or on such terms and conditions as the Court thinks just."



On the forfeited assets, Magu said they had been handed over to the Federal Government for use by Ministries, Departments and Agencies.

He said:

Quote

"The ones (the assets) that have been forfeited finally to the Federal Government were those allocated to federal agencies to save cost because these government agencies spend a lot of money to rent properties.

"We tried as much as possible to avoid recourse to the auctioning of these assets. If you auction, you sell at peanuts. And the EFCC tried to distant itself from the auctioning of the forfeited properties. We have left the initiative of what to do with recovered assets to the Federal Government.

"As a matter of fact, I am not interested in any property. To me, to get the work done is the most important."
---