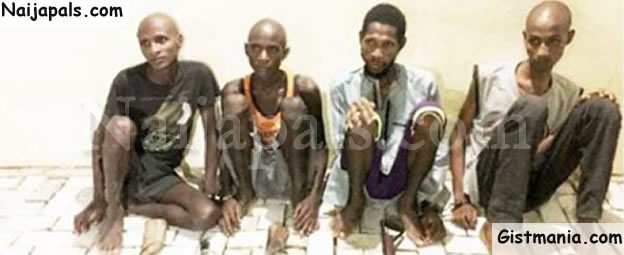 A member of a 5-man kidnap gang arrested by operatives of the IGP's Intelligence Response Team, Sani Mohammed has disclosed that they would have made about N500 million from kidnapping wealthy victims in Abuja, and Kaduna, this December, had they not been arrested.

According to Dailytrust, Mohammed was arrested alongside three others from their base in Enugu State. Their arrest is sequel to the purported plan for the gang to kidnap one an Abuja-based businessman, Alhaji Ulere. .

Those arrested along with Sani are: Babangida Garba, Dogo Ibrahim, and Ibrahim Haruna. Sani told the police interrogators that their plans were to make at least N500 million from ransom, this December. .



Sani, who the police described as one of the dangerous armed robbery suspects and kidnappers, admitted abducting a lot of affluent people in the past. .

In fact, the suspect said, he has lost count of the number of operations he has embarked on since he joined the gang in 2016. He narrated: "I'm from Zamfara State, and I was formerly into cattle-rearing. .

I came to Abuja in 2007 in search for greener pastures. While in Abuja, I started working for one Alhaji Ulere. I left him and went to join a friend in Enugu State after my boss refused to pay me my money. .

While I was in Enugu I discovered that my friend already had an armed robbery gang and they were into kidnapping. I joined them." Sani said at first they started robbing travellers on the Enugu Port Harcourt expressway. .

"Normally we block the expressway with heavy logs in the dead of the night, forcing vehicles to stop. We would rob all the occupants of their cash and valuables. We take the rich ones among them hostage in a forest in Enugu. .

They will be released only when their relatives pay ransom. I can't count the numbers of robberies I have taken part in, but the one that got me into trouble was the kidnapping of my former boss, who sells cows in Abuja."
---