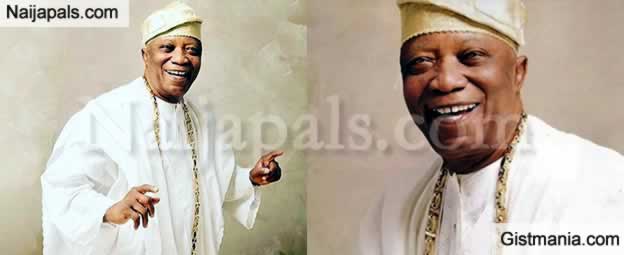 ADEKUNLE OLADINI, AKIN ADEWAKUN, OTARU OVOSI, SYLVESTER OKORUWA, SEGUN KASALI and LANRE ADEWOLE sat with the new Odole of Ife, Chief Kessington Adebunkunola Adebutu, (popularly known as Baba Ijebu) for the yet-to-be told stories of his extra-ordinary life of small beginnings, before becoming one of the wealthiest of his generation. Excerpts:


How did you come about the name, Kessignton, sir?
Well, when we went to Missionary school, you just have to be baptised. So, Kessignton is my baptismal name.

One would think baptismal name would come from the Bible?
Those days we were fond of so many names and that is the name that appealed to me.

So, you picked it yourself?
Yes.

How did you come in contact with that name, sir?
We listened to news. We read papers. So, so many names came to my mind but that is my best choice.

Kessington is a place in London. Was it the sound or location that attracted you?
I like the name.

Why was your Dad dubbed 'Owo-Iya'?
My dad was a spoilt child, over-pampered by his mother. He left school because his mother gave him a wife while he was in school. The mother also built him a house. So, he was called Owo-Iya because it was his mother's money that was doing everything (for him.)

Does that mean you were born into wealth?
I won't say so. Maybe you can say that to my father. I was not born with silverspoon. But my father was. I have seen bitter life. I have seen sweet life too

When were the bitter periods and what happened?
Well, when we were going to school in the primary days, we went to the river to fetch water and at times, we went to farm to bring firewood and all of that. You can't find that these days. And of course, the sweet periods too. You can see the awards coming from left and right today. We thank God for it. I have also just been honoured by the Association of Friends as a patron. They have never had a Patron. I am the first patron. Today again, I just received a letter from my church, with the intention naming me as the Pillar of Methodist Church of Nigeria. I will become the first to be honoured with the award. So, I thank God that award is coming left and right. On Saturday, I was honoured by Alaye of Ode Remo with the chieftaincy title of Asaalu of Ode Remo. So, as you can see, I have good reasons to thank God.

While going through the bitter period as a young boy, did you ever foresee the awards coming left and right as they are now?
Of course. I am not one to lose hope. I was forever determined that it would end well. For your information, when my classmates like Chief Molade Okoya-Thomas of blessed memory and others were going to England, my parents could not afford to send me to England. I told him that by the time he came back, I would be a millionaire and it happened. That is determination.

How did you make the million sir?
As I have said, some of them went to Europe because their parents could afford it but my parents could not. So, I started working. When I started working, I was stuck with a book. I am trying to remember the title of the book now. In that book, the author said that in any business you do, you have to quit either because of sack or because of old age. And he goes on to say that in a small business of your own, even when you leave it, you will leave it to yourself. That means even when you leave it, when you die or pass on, your children can continue the business. So, that inspired me to go into private business.

So, it was the gaming business you went into?
One could say so. I started as a pools agent. Pool is game.

When you went into the gaming business in 1963, the popular opinion then was that those who went into gambling as they call it, would either be tough boys in the neighbourhood or..

(Cuts in) For your information, what I do is not gambling. It is gaming. And I repeated it many times that gaming is the stock exchange of an ordinary man. Ordinary man cannot buy shares in UAC and others. Just name it. Their stock exchange is gaming. And for your information, I have produced thousands of millionaires not hundreds. If you look at my history, I have been in the gaming industry for quite a while. I have been in the gaming industry since the 60's. That is not a joke.

Was there any time during the course of the gaming business that things became so tough that you felt like quitting?
There was a time that over 90 per cent of gaming companies in Nigeria packed up when one forecaster, Ubani Ubani forecasted rightly for five consecutive weeks. Over 90 per cent of the companies packed up but I refused to pack up. And again, that is determination. We had to pay winnings in installments. My company faced it. So, I have seen sweet life and I have seen bitter life.

Would it be correct to say that your love for gaming business started when you were a pools' agent?
Of course. When I was a pools' agent, unfortunately, majority of the agents were illiterates. So, with my little educational knowledge, I was keeping statistics, like how much sales did I make today? How much is the winning? What is the balance? And in conclusion, I discovered that if a gaming company can afford to pay winnings at the end that company will be a winner. And that was what prompted me to become a pools' promoter.

It was when you left a pharmaceutical company, Claffin Chemicals that you became a pools' agent, sir.
Yes, you are correct.

You must be tough to take that decision growing up. How tough were you, sir?
I was a stubborn boy.

How stubborn, sir?
If you look at my educational history, I started from Wesley Primary School in Iperu-Remo. Then, I went to Ijero Baptist School at Ebute Metta. Then, I went to Baptist Academy.

You left Wesley in Primary 4?
Yes.

Was it as a result of rascality?
That's a story for another day. So, my mother had to beg me and buy me a new Raleigh bicycle. You know what it means to ride a Raleigh bicycle in those days? I am talking of the 50s. And in those days, Raleigh bicycle was like Rolls Royce.

You can't be that tough without a nickname, sir? What is it?
They called me Kessy bobo (general laughter).

Rascality could be positive…

(Cuts in) I cannot tell you everything (laughs). I have the right to give and keep some to myself.

You had a group of friends then. Are they still around now?
Many are of blessed memory. I think I just have to thank God. I will be 84 years in a few days.

So, the few ones that are around now, when you sit together reminiscing about the past, you possibly laugh about things you did then?
I still have a few around.

Can we have one act of then, that is still very memorable? Were you expelled in Primary 4?
I was never expelled. But many times, I played truancy.

That should not be enough to leave school?
My mother decided to bring me to Lagos with the hope that I would change.

Lagos would ordinarily be tougher than Iperu-Remo?
Not in those days. In those days, Lagos was so sweet.

Give us little you can remember of Iperu-Remo?
Don't forget Iperu is a town and Lagos is a city. So, there will be a huge difference.

So, how much of Iperu did you enjoy before leaving?
Of course, I enjoyed Iperu.

Doing what?
Especially the training my mother gave me. By three or four o'clock in the morning, we would be carrying wares to the park, before coming back to sleep again, before we went to school. Almost every day, my mother would go to one market or the other. This was during the days of kaftan and the likes.

Can we call you Owo-Iya too?
I would say no, even though my mother spoilt me to a certain extent but not like that of my father.

Was your mummy using the rod?
No. She would pet me every time.

Even when they brought your report from school, your mum would still…?
She would appeal to me.

But in school, were they using canes?
Oh! In those days, yes.

European teachers?
No. Missionary teachers.

Is there anyone of them, still in your memory?
I went through many teachers

From school, the attitude you developed turned out to be positive?
It was courage.

You must also be tough to handle for those coming for pools betting?
Especially, when betting companies were having that problem. It was really tough

Sir, you are still good-looking at 84 and you know your mum had money and you were popular in school. It is also possible that girls would find you attractive?
As I told you, I was riding a new Raleigh bicycle (laughs). Remo Secondary School is also a mixed school.

There must be one incident, maybe, an outing with a girl, still poignant in your memory?
I have told you that I can't tell you everything. I believe I have given you enough and you should be satisfied with it.

When you met mummy, at what point did you say it is time to relax?
I got married very early, at the age of 25 (18th August, 1960)

How did you meet mummy, sir?
I met her with the Sofolas and we started and it ended well.

Were you into partying in those days?
That was the pattern in those days. There was nightlife which is not there anymore. In those days, we would start with a club and go to another listening to Bobby Benson. The nightlife is not there anymore now because it is not safe.

So, that time you were moving from one club to another and there was money?
Yes.

Even then, those who had relatively good life would not want to quickly settle down. What informed your decision to do otherwise, considering the advantages of remaining in the bachelor's realm?
Of course, when you meet your wife, you just have to get married.

So, she did something that made you say, ah, this is her?
She is the quiet type and she just left college at Girls High School. So, I just decided to settle down quickly.

You must have a popular toast-line then. I am sure you still remember, sir?
No now, I was not as bad as that (general laughter).

Were you writing letters, like the cockroach in my cupboard stuff?
No. We were seeing almost every day. We went to dancing school together.

Oh, the dancing school kicked the relationship off?
No. It was when we got married; we decided to go to dancing school. She was living at Herbert Macaulay and I was living at Railway line. It was not far at all. It was a walking distance.

But we thought dating of your time didn't allow such closeness?
No, this lady just finished her secondary school education. She wasn't a small girl. And at 25 too, I was an adult.

The last job you held was in a drug store and then, straight away to be on your own. Is being in a paid job a bad idea?
There is no way one can escape being in a paid job. You must start from somewhere. And this is what I am telling the younger ones today because they don't want to crawl before they walk. They have to start from somewhere. You need a ladder to climb. You know the meaning of crawling? Can you see a baby without crawling? But this is what the generation of today is doing. Except there is a helper, otherwise, when you leave school, you just have to go into a paid job.

Your philosophy of life is, thank God in whatever position you find yourself. What ingrained this?
I am a Christian. I work hard? Yes. But there are so many people that work harder than me and they are not getting a fraction of what I am getting. This is by the mercy of God. To me, I believe the only way to show appreciation is by helping the underprivileged. That is what I do in my foundation, helping the underprivileged. Believe me, I am happy and my foundation is doing fantastically. I believe you must have seen the work of the foundation all over- schools, colleges, hospitals, churches and so on.

In a few days, you will be 84. What is your wish for Nigeria?
I would like Nigeria to be peaceful and self-sufficient. A place people come out of school and they have a job.

What is that thing that gives you plenty of joy, if not plenty of money?
Good health. I am 84. Some of my mates were not able to reach this. I am not mocking them but showing appreciation to God.

The secret of your good health, sir?
Moderation. I do everything in the world with moderation.

Your relationship with late Chief Ayoku epitomises what friendship should be. In the course of doing business, have you been betrayed by friends?
I won't say so.

What is your relationship with the Ooni of Ife like?
The Ooni of Ife is a little brother to me and our relationship is quite cordial. I think it's the cordiality in our relationship and the role I'm playing with my Foundation that can be said to be one of the reasons for the chieftaincy title of Odole Oodua. You all know that the Foundation is doing a lot in assisting the less privileged.

How would you describe the personality of the Ooni of Ife?
Well, a gentleman and humble personality. He is also a lucky man. At a very young age he is lucky to have ascended that throne, a highly revered throne in Yoruba land.

What areas of the monarch's life do you cherish most?
His humility. He is very humble, quiet and easygoing. Not only that, he is very serious in bringing unity among Yoruba Obas, a development I consider great for the Yoruba race.

What is the significance of the Odole Oodua title to you?
It's of huge significance. The Ooni even emphasised that. In fact, the Ooni told me it's not chieftaincy, but a coronation. That's what Kabiyesi told me. And it's no sin for one to be elevated. No doubt, I have a lot of titles, titles from one city to the other, all over the country, but this particular one goes a long way, I mean the Odole Oodua. I understand my role spreads all over the Yoruba race. So you can see that it's a big title.

What specific roles are you expected to play, as the Odole Oodua?
The major role I have to play is to unite the Yorubas. You will agree with me that uniting the Yoruba race is a huge task. It's not a small business. But, I'm committed to doing that.

What would you say is the reason for these chieftaincy titles that you've been getting across Yoruba land and even beyond the region?
Interestingly, I never asked for these titles. In fact, I've never asked for chieftaincy title in my life. The first chieftaincy I got was in 1972. It was the sister of the late I.S Adewale of blessed memory, a very good friend of mine, then, who went to the Oloto Ogundimu to talk about it, and the Oloto just took me to Oba Oyekan of Lagos. The same thing with, I think the second chieftaincy from Iperu, in Ogun State. I had gone to Iperu to launch the fund to build our hospital and I was introduced as the Babalaje of Lagos. Then the Oba said: "Are you the Babalaje of Lagos? Automatically, we are here for you'. I can go on like that. I never for once asked for a chieftaincy title in my life. For your information, last Saturday, I was installed the Asalu of Ode Remo. The Oba had to put pressure on me and said, 'look, I know after Saturday the 19th of this month (today), you will not accept any other chieftaincy title, but I just have to honour you with this title', and that was it.

So after today's 'coronation', no more chieftaincy titles for you, Sir?
'Ojo ki ro k'eri tun se'. When the rain falls you cannot have dew again. After the 19th of October, it's goodbye to chieftaincy titles.

What's your message to the Ooni of Ife on his 45th birthday.
I have said it already. I wish him many happy returns of the day, and long life in good health.
---