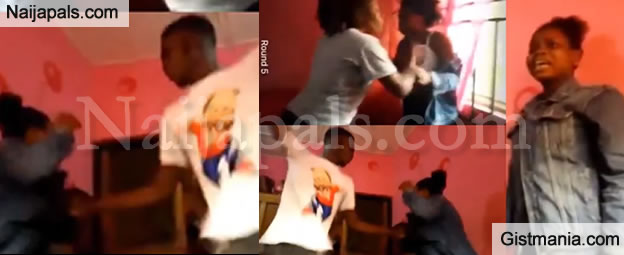 A group of FUTA students were caught on camera beating a female 100 level student mercilessly in her room.

About 5 FUTA students, one male and 4 females ganged up against a female student, Bimpe, accusing her of saying something she was not supposed to which quickly resulted in her getting the beating of her life.

The male student was the first to slap her repeatedly before he removed his belt and started beating her with it while the other ladies with him joined in using different objects to beat her up.

According to reports, the male FUTA student came to assault the female student with his school daughter (one of the girls in the video) who allegedly called him to help deal with the lady who she had a misunderstanding with in school.

The video which is now going viral is yet to be traced but the last message reads;

100 lvl students watch how you run your mouths.

Watch the video below.



The videos going viral has sparked reactions from people on social media, see some below.



Quote

Whatever the reason, this is sinical. Everyone that participated in this assault should face the music. – @in_VINCE_sible

I know everyone is saying that the abusers would be rusticated, I appreciate that but what I would appreciate the most is to see that guy and the other stupidly foolish girls flogged to stuppor. Make people beat them too like that not just hand them over to the police. – @Evans60374167

I NEED THE ADDRESS PLEASEEEEE! I had tears in my eyes watching this ..damn! – @DaflowABIOYE

Everyone In this video that laid hands on the poor girl should be arrested..If na my sister people do laidiz dey go don Bury at least two out of those pippu – @_bisoye

FLASH: Seven (7) FUTA students have been identified as the culprits of this act of assault & battery. The seven students will be sanctioned according to the University's Rules and Regulations. They are to appear before a panel by 9.00am tomorrow, Sunday, November 17, 2019. – @sama_on_point
---
Posted: at 16-11-2019 11:23 PM (3 years ago) | Hero