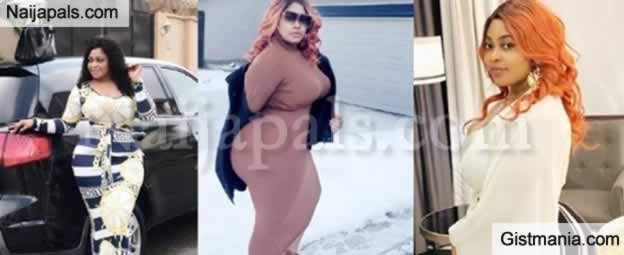 Curvaceous actress, Biodun Okeowo has talked about her life and the struggles of growing up with massive curves.
Popularly known in the movie industry as Omoborty, Biodun Okeowo is one actress whose sexy figure announces her wherever she goes.
In this interview, the fair-skinned, voluptuous role interpreter recalls some embarrassing moments she had encountered, her social life as well as dealing with negativity that comes with being a celebrity. Enjoy it.


What would you say is the best lesson you learned in 2019?

Best lesson learnt in 2019 was that 'we are all visitors in this world and nobody is promised tomorrow'. So, we should always do good and live everyday like it's our last. It's a lesson I learnt because I didn't believe my mom could die last year.

You have been scarce in movies lately, why?

It is a personal choice. Reason is that my business takes 70% to 85% of me, because that's where the major money I make comes from. But this year, I'm doing a cinema movie by God's grace.

You recently unveiled your new office, how has it been?

Glory be to God. Business has been good. Skincare business is the main thing now. I'm launching a bigger one soon by His grace.

Recently, you said that you were shy of your curves at an early age; did you have any embarrassing encounter that led to such?


I never had any embarrassing moment per se. But I remember a certain man that used to call me 'Iya Iyabo' in Kaduna then, because of my massive hips. He was like 'If you born, this your yansh go full everywhere o; because you never born, the thing too big'. So, that made me conscious of my shape; as skinny as I was then, my curves couldn't be hidden.

Would you say your curves open more doors of favours for you now?

Curves opening doors? (laughter). I don't even socialise. God has been my door opener, not curves or anybody.

What do you do to maintain your looks?