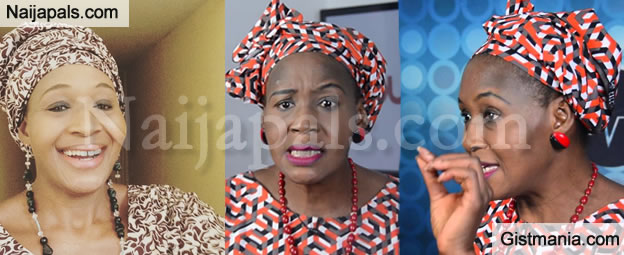 Controversial Journalist , Kemi Olunloyo has been hailed by Nigerians for insinuating Abba Kyari's death two weeks ago. The Presidency made an official statement announcing Abba Kyari's death in the early hours of Saturday, April 18, 2020.



Kemi Olunloyo tweeted a high ranking member of President Buhari's cabinet died on April 2, 2020.

However, Former Minister of Aviation, Femi Fani-Kayode was quick to debunk the rumour saying the President's Chief of Staff was receiving medical treatment.

Following the announcement of Kyari's death early this morning, Nigerians have lauded Miss Olunloyo for insinuating the demise of Buhari's Chief 0f staff weeks ago.

@ZedexBoss
Those of us who believe and follow #Kemi we are not surprised. She is sound and carries nothing but real news. Give @KemiOlunloyo her accolades, she deserves all. #KemiOlunloyo #kemitalks

@life.of.ben
Dr Kemi Olunloyo told us few weeks ago, She said Nigeria are smart but not intelligent…. I fear who no fear that Woman you still think she's crazy? Think again lol

@Iam4LAIPH
Point of correction: #KemiOlunloyo does not see the future, neither did she predict Abba Kyari death. what she does is investigative journalism. This is what is lacking in our main stream media today or maybe it's because they are scared of the government!

@drpenking
#KemiOlunloyo implied weeks ago that Abba Kyari , Buhari 's Chief of Staff had died.If you want to investigate, he died since that time and they are only announcing now because they can't hide it any longer. Is Kemi an academic Doctor or a native Doctor? Thinking face Rest in Peace

@OfficialMaazi
Why Aunty Kemi is different from others. You don't expect a US Trained Clinical Pharmacist, Medical Journalist, PR Specialist, Community Activist who has been to prison be same with Nigeria made Journalist who never tasted police station before. She is the best

@Sonjoe_Kutuh
Aunty #KemiOlunloyo should be dropping sure Bet9ja odds for us when football returns abeg. This Aunty toh bahd

@bearburruss
Very sad! He died 2 weeks ago! Kemi Olunloyo, her information is right! Respect to Dr. Kemi.

@switchthamix
Meanwhile I'm starting to take @kemiolunloyo journalism serious. She's so accurate.
Posted: at 18-04-2020 01:20 PM (2 years ago) | Hero