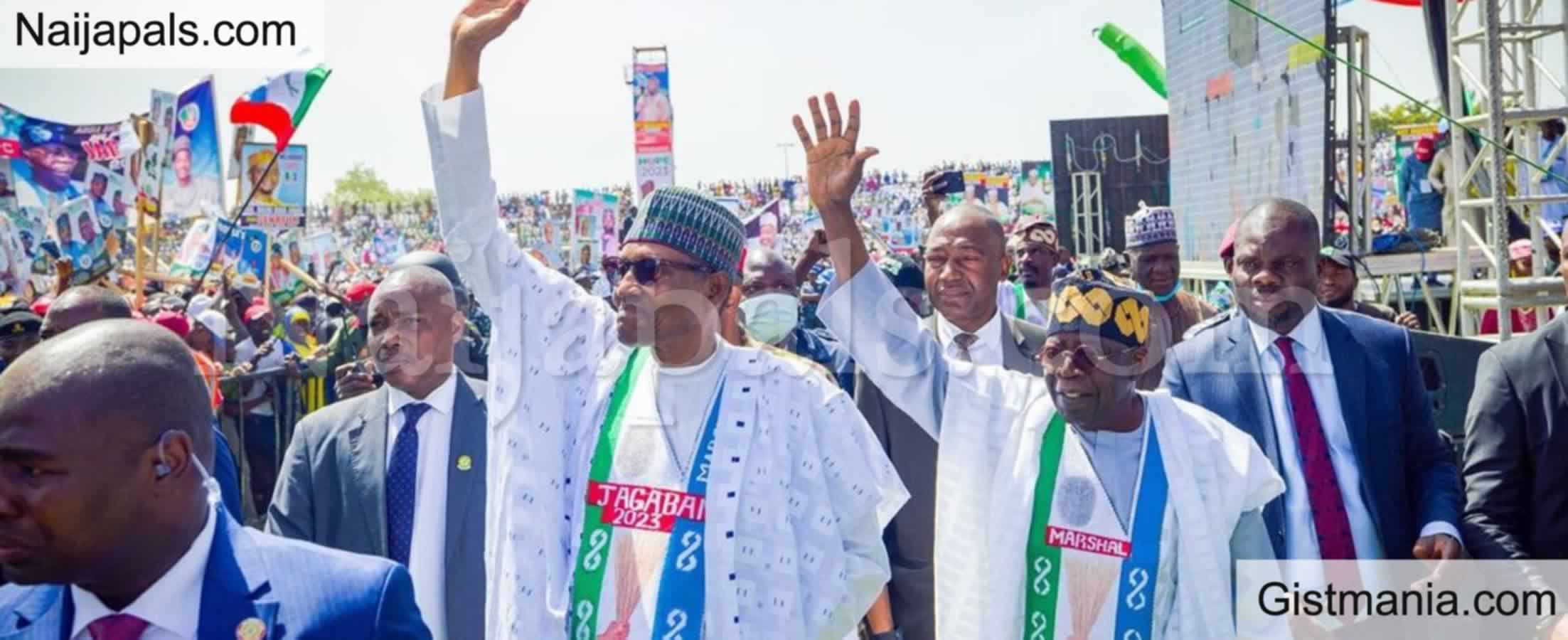 Bola Tinubu, the presidential candidate of the All Progressives Congress (APC) on Saturday at the campaign rally in Lafia, the Nasarawa State capital, dismissed speculations of a rift between him and President Muhammadu Buhari, stating that but for constitutional democracy, he would have asked the president to stay on.

Mr Tinubu, whose relationship with Mr Buhari has been the subject of speculations since the Naira redesigning debacle, dedicated a large part of his speech to praise the president.

The speech was a departure from the one he gave in Ogun and Ekiti states, where he stated that scarcity of the redesigned notes is part of deliberate efforts to sabotage his campaign.

Some close allies of Mr Tinubu, including Governors Nasir El-Rufai of Kaduna and Umar Ganduje of Kano State, have in separate interviews, alleged that there are "elements" around the president conspiring against Mr Tinubu and the party.

However, in his speech in the presence of Mr Buhari, the former Lagos State governor was mute on the scarcity of the new notes and fuel across the country. Instead, he talked about how Mr Buhari dismissed the idea of a third term.

The Nigerian constitution only permits two terms of four years for the president and state governors. It would require the amendment of the constitution for a president and governors to have extra terms.

Mr Tinubu also likened Mr Buhari to a former United States President, Abraham Lincoln, the American civil war hero.



Quote

"Today, to have you here to talk about democracy and our party, it is a joy and great honour. It is a joy for us, who joined hands with you some 20 years ago, to reshape Nigeria, to fight corruption, to fight destitution, to fight failure and hunger, including the unexpected downfall in oil prices and violent attacks on our persons, on our soil. You faced this courageously.

"Yes Nigeria is surviving as a nation and we believe because of constitutional democracy we would have asked you to stay but you said no, 'this is a constitutional democracy, I am going back to Daura, my farm, my house, I miss them. Not that I don't miss you people, not that I don't appreciate you people, but there is more to do in life and with time to transform Nigeria. I will step aside and allow you people to continue.'

"It is a joy for me to see that you are a poster boy for APC and Bola Tinubu—standing up there we see the poster of Bola Tinubu so prominently on you. Those who think there can be cracks in our friendship and relationship will continue to be disappointed and their short time joy limited

"Ours is not about the individual but nation building. It is about honesty, integrity and character. You are a great man with a political credential,"

the APC flag bearer said.

Mr Buhari, who spoke in both English and Hausa, said he will continue to campaign for Mr Tinubu and his party.
Posted: at 4-02-2023 05:35 PM (1 month ago) | Addicted Hero