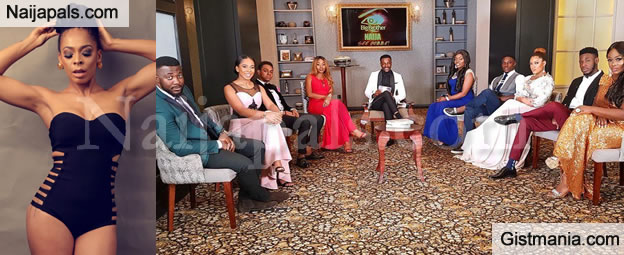 So, the organizers of Big Brother Naija brought the season 2 housemates for a reunion show, and it's been apparently, fun to watch.

So, far they've talked about their stay in the house, controversies, romance, bromance, enemity, and literally all that happened in the house… also not forgotten what they've been to so far in the house.

In today's episode, Tuesday, TBoss reiterated yet again that She also made mention of spending the 25 million in 2 weeks.. She's standing by all the controversial statements she made in the house.



TBoss also says she prefers to work for what she has ,in her words: "If it's just about money, I'd sit in my house and wait for someone to bring it to me, because like I said, people with money hit on me, people who do have private jets hit on me, but I'm not about that life, that is why I struggled for myself to get this money, for myself." doesn't roll with small boys that "can't afford recharge cards," as she's got multiple suitors running after her, and not just ordinary suitors, but rich suitors with private jets.

TBoss also says she was "too good" for BBNaija…




Tboss, ex-housemate of Big Brother Naija previously slammed Uriel for gossiping about her with other housemates outside the show.

The second runner up while speaking on a recently aired Big Brother Naija reunion episode, complained about Uriel taking her story to other housemates.

On the other hand, another ex-housemate, Soma accused TBoss and Miyonse of making out when wrapped under the duvet.

However, Tboss denied the accusation, claiming nothing happened between them.



Quote

"Shut the f*ck up I never felt anything for Miyonse, only enjoyed his company," Tboss lashed at Soma.




#BBNaijaReunionShow recap; Episode 1&2


---