If Sekinat Emiola had known that an extra-marital affair she was having with Asimiyu Ayantayo who lives at Oke Aremo Ibadan could lead to her death, she would have exercised some restraint. She left her four children with a message that after she finished her business at Eleyele, she would have a stop- over in the residence of Asimiyu before she came back home. Unknown to her, she was saying the last farewell to her children. She never knew that all the dreams she had at the beginning of the year would crash like a pack of cards.

At Eleyele state police headquarters, all her former friends when she was alive could not stand by her. It was not that they hated her but because of the stench that was oozing out of her severed head and two hands. No thanks to her 'lover' who thought it was not necessary she lived. All sympathisers who thronged the police headquarters had to cover their nostrils so that they would not inhale the odour that had taken over the entire spacious premises. A policeman nearly betrayed his emotion when he saw the gory picture of the severed head of late Sekinat.

One of the children of the slain woman, Kausarat Sekinatu who had the guts to see the head of her once-loving mum was stunned with the horror before her. She never imagined that another mortal could display such level of wickedness. Unfortunately, all these could not revive her mother whose remains were packed into a bag. The two suspects including a vulcanizer looked unperturbed. One of them who was said to be the prime suspect, perhaps, underestimated the evil he was alleged to have committed as he was covering his nose and spitting intermittently as a result of the odour. When asked how he committed the heinous act, the suspect confessed that Sekinat was his concubine and that they have been having a love affair for quite some time but he denied killing her. He said, on that fateful day, Sekinat came to visit him at Oke Aremo and they had sexual intercourse. But, after the intercourse, the woman died.

I knew that she had been laced with a killer charm popularly called Magun in Yorubaland and that any man who had sex with her would die. I contacted the magun on her during love-making. She wanted to summersault but I prevented her. Then, she started foaming after the act and fell from the chair and died. I then decided to cut off her head and her two hands so that nobody would recognize her. I then sent this man to buy a nylon bag for me so that I could put the body there. "At night, this man, Isiaka Akanbi helped me to put the sack on my head and we went and buried it at the cemetery. But the head and the two hands, I buried at the backyard of my house".

The second suspect, Akanbi said, "He just sent for me and gave me N400 to buy a sack for him. He is a big brother in the neighbourhood. I went and returned with both the sack and N70 balance. I didn't know what he wanted to do with the sack. The following morning, he asked me to enter into a covenant. I asked him why we needed to go into a covenant and he said he wanted to show me the mystery of the world. I was surprised. He then asked me to drink the concoction he brought and I declined. Then, he asked me to taste it with the tip of my tongue which I did. He asked me to follow him to his house and I did. After a brief conversation, he asked me to come and see something. When I saw it, I screamed! Then he said: "You are seeing the mystery of the world. Make sure you tell nobody, otherwise, you will die. I said that police must hear this and he said I would die. Then, he took me to the graveyard, dug a shallow grave and buried the parts. I knew the woman very well. I knew them as lovers."

Saturday Vanguard gathered that a boy living in the same house with the suspect heard the cry of that woman. In curiosity, he peeped through the keyhole of the door and saw the man using a cutlass to severe the head of the woman. The boy went unnoticed. After, he was discussing with his mates that the suspect was heartless as he saw him cutting the head of the woman. Incidentally, a security man was standing close by and arrested the boy that he should lead him to where he saw the suspect. He was immediately arrested.

The daughter of the deceased, Kausara spoke with Saturday Vanguard that she did not know the whereabouts of her mother. But, it was her brother that called her only to discover that their mum had been killed. The brother of the deceased, Mutiu Emiola, a mechanic at Lagos called on the security agents to ensure that the life of the suspect was not spared. He said, "On that day, my sister told one of her children that she was going to the market at Eleyele because she sells ewedu(vegetable) and that on her way she would go to the house of Asimiyu. She did not come back home. And on that Thursday, Asimiyu told one of his children that he wanted to travel to Ijebu but did not disclose what he wanted to do there. We looked for my sister for two days not knowing she had been killed".

The police commissioner in the state, Mr. Tambari Mohammed, insisted that Ayantayo killed the deceased, but the suspect claimed that he beheaded her after she fell down from a chair and died. But, to prove that he was hiding some facts, he gave another reason saying he killed her to save his own life because somebody has to die once magun is at work. Whatever is done to the suspects for the murderous act, the bottom line is that Sekinat is dead and can never come back to life again. What a wicked world.
http://odili.net/news/source/2012/apr/28/334.html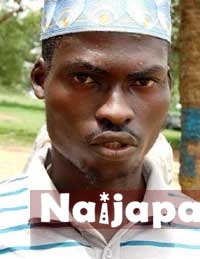 ---