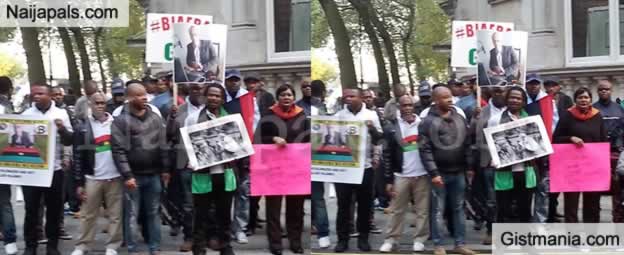 Some Biafran protesters and members of the Indigenous People of Biafra in London are currently demonstrating at the venue of Buhari's meeting with British Prime minister and other heads of state.

Pro-Biafrans are protesting in London as President Muhammadu Buhari meets with British Prime minister Theresa May, Queen Elizabeth II, and other heads of state at the opening of the Commonwealth Heads of Government Meeting today.


According to Reporters, the demonstration is taking place at the Pall Mall Street, Westminster, about 650 metres from Buckingham Palace, the venue of the meeting.


It was gathered that the protesters are demanding for the release of Nnamdi Kanu, the leader of the Independent People of Biafra (IPOB) and a referendum on the fate of Biafra.

"As another birthday approaches, I'm reminded of the extraordinary journey we've been on" - The Queen wishes for Commonwealth "continuity" at #CHOGM2018 pic.twitter.com/4wvTJ6akP2

— Sky News (@SkyNews) April 19, 2018
"Together we can take on some of the 21st century's biggest questions" - @theresa_may urging #CHOGM2018 leaders to tackle #climatechange and plastics #OceanRescue pic.twitter.com/5Qcma6HAV9

— Sky News (@SkyNews) April 19, 2018
This is a developing story, we'll bring you more details later.

---