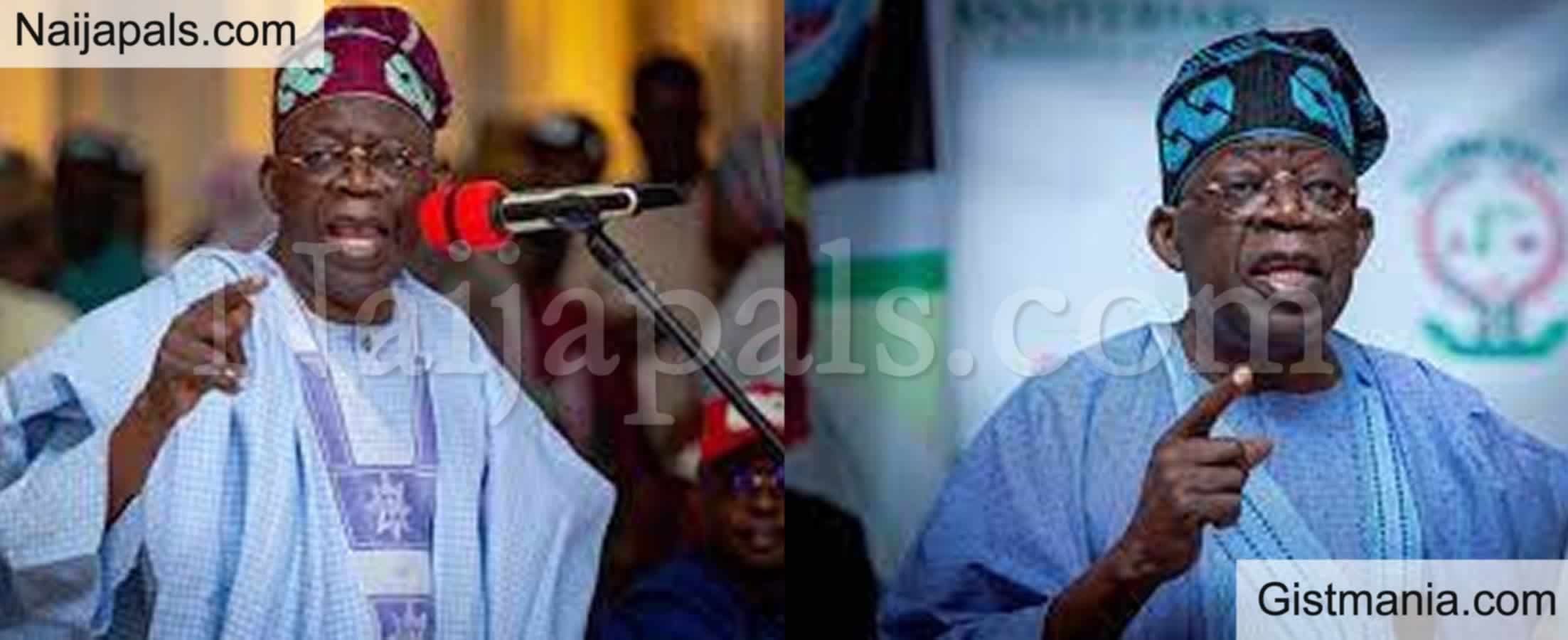 According to Online Publisher, Jackson Ude, "Bola Tinubu's real name is Yekini Amoda Ogunlere from Iragbiji Osun state. That is what is contained in his Primary and Secondary school certificates and that's why he has refused to tender them before INEC".


Also, Charley Oputa, popularly known as Charley Boy, said it was not true that the former Lagos State governor attended no primary, no secondary school.
Area Fada, as Charley Oputa is called stated that Bola Ahmed Tinubu must be hiding his original identity because it contains personal information he would not like the public to know.
Ahmed Bola Tinubu won the ruling All Progressive Congress presidential ticket, however, a presidential form he submitted to the Independent National Electoral Commission, INEC, reportedly showed no educational background.
Bola Tinubu it was reported, stated that he did not attend primary and secondary schools. It was further reported that Tinubu, who campaigners had said attended Chicago State University, and graduated as a first-class student, in the INEC form, said his university certificate by stolen by unknown soldiers.
Questions were raised where, how could Bola Tinubu, a two-term governor of Lagos State say he did not attend primary and secondary schools? How could INEC have accepted and cleared Tinubu to contest two terms of Lagos State governorship?
Netizens and political observers are of the opinion that it is either Tinubu must be blamed or INEC for such political games.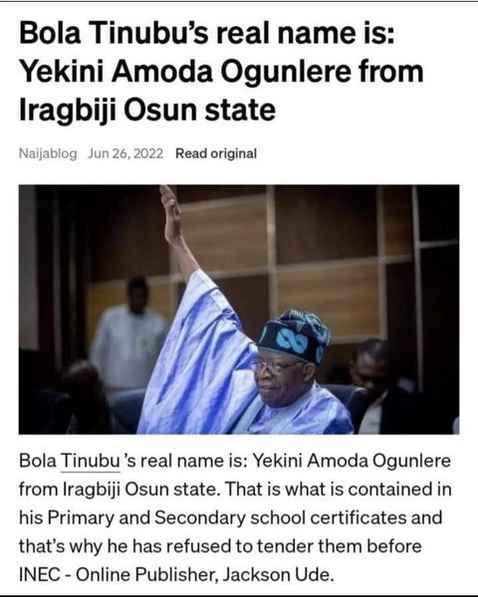 Some Nigerians however disagreed that Tinubu had no primary, secondary, or university certificates. They are alleging that something must be fishy about Tinubu's claim.
On Twitter, a user @Officialmanny4 alleged that the APC presidential candidate attended both primary and secondary schools. he further alleged that Tinubu is an indigene of Osun State, South-West. He said the full name of Tinubu before alleging changing of the name was Yekini Amoda Ogunlere" from Iragbiji Osun state.


Quote

He alleged, "Bola Ahmed Tinubu's real name as contained in his primary school certificate is "Yekini Amoda Ogunlere" from Iragbiji Osun state. He changed to Tinubu after being wanted for drug-related crime in the 70s in the US. That's why he didn't tender them to INEC."



Bola Ahmed Tinubu's real name as contained in his primary sch certificate is "Yekini Amoda Ogunlere" from Iragbiji Osun state. He changed to Tinubu after being wanted for drugs related crime in the 70s in US. That's why he didn't tender them to INEC
Gbas Gbos #doggy Rinu Room 419

— Bluestockingz (@Officialmanny4) June 25, 2022
Quote
Also disagreeing with the former governor of Lagos State, Charley Boy, CHARLES OGBU wrote, "Make no mistake, Tinubu attended primary/secondary schools. The reason he would rather lie that he never attended any than submit his certificates to INEC Nigeria is bcos those documents contain personal info about who HE REALLY IS, his real name, his age,etc."
CHARLES OGBU writes
Make no mistake, Tinubu attended primary/secondary schools. The reason he would rather lie that he never attended any than submit his certificates to INEC Nigeria is bcos those documents contain personal info about who HE REALLY IS, his real name, his age,etc

— Charly Boy Area Fada 1 (@AreaFada1) June 25, 2022
---
Posted: at 26-06-2022 09:46 PM (1 month ago) | Hero