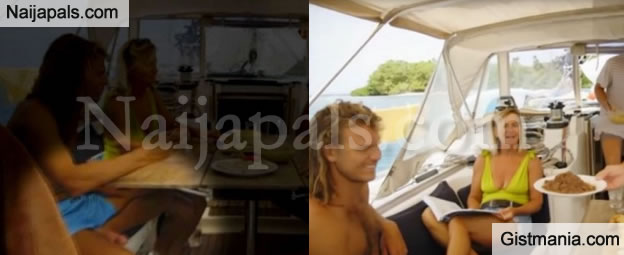 A national broadcaster was left red-faced when an unexpected guest made itself very visible in its flagship programme. An idyllic family lunch on a boat became rather X-rated when what appeared to be a p*nis belonging to one of the sons decided it wanted to share a piece of the limelight.
the clip came from Danish broadcaster TV2's Sail to Distant Shores which follows Mikkel Beha Erichsen and his family as they spend three years travelling round the world on a boat.
The money shot provoked much hilarity on Danish journalist Anders Breinholt's talk show Natholdet , who revealed the suspicious body part was actually his foot.
In a clip shared on YouTube he jokes about the unwelcome visitor with a guest and advises people to be careful about what they choose to wear when the TV cameras are on them.
He says; "If you are the type that wears loose shorts then remember to think how they fit when you sit down on a table, possibly on a boat, if you're out sailing. "This is from the TV programme 'peen for Distant Shores' no its called 'Sail for Distant Shores."
He adds Mikkel's son Emil and his brother have become hits with the ladies because of the TV show, and now they are back in Denmark, this "even though its only his foot" will make him more popular.

Published at:
11:03 AM, 21/04/2016 (2 years ago)
Author:

Giwa bayo
Problem with this article? Please email reporter[at]naijapals[dot]com or visit our contact page
---