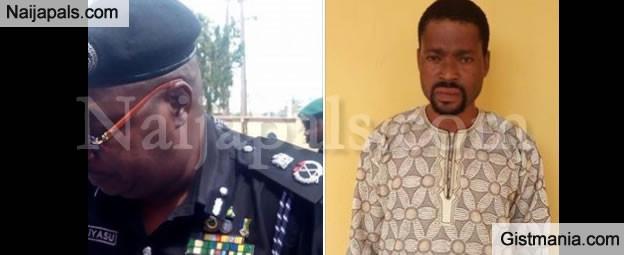 A young royal father, who allegedly defaulted the Ogun State Anti-Land Grabbing Laws, is due to be prosecuted. Baale of Ferowa Village in Ifo Local Government Area of Ogun State, Chief Muyideen Folorunso, was arrested for a dubious act of selling a large expanse of land for which he received a full payment of #15.5million, and still went ahead to sell a large chunk of it to some other prospective buyers.
Baale Folorunso was picked by men of the Ogun State Police Command, Abeokuta, Southwest Nigeria, following a complaint by the management of Jaxmat Homes and Properties, from whom he collected the sum of Fifteen Million, Five Hundred Thousand Naira (N15.5 million), for 23 acres of land.
The State Police Public Relations Officer (PPRO), DSP Abimbola Oyeyemi, stated in a press release made available to Crimepuzzle that, "Few months after the deal was sealed, the traditional ruler started selling the same portion of land to another set of people. Before the company knew what was going on, the Baale had sold seventeen acres out of the 23 acres earlier paid for by the management of Jaxmat Homes and Properties, a development the management petitioned the State Commissioner of Police, Ahmed Iliyasu".
Oyeyemi further stated that, based on the petition, CP Ahmed Iliyasu directed the Officer- in-Charge of Public Complaints Bureau (PCB) to look into the case and bring the suspect to book.
He said, "The Baale was subsequently arrested, and on interrogation, he admitted collecting the said amount of money from the complainant after showing them the said parcel of land, adding that, he was tempted to sell part of the land when he needed money for his coronation".
Crimepuzzle gathered that, CP Iliyasu, after ordering a thorough investigation into the case, has directed that the suspect be arraigned in court in accordance with the Anti-Land Grabbing Laws of Ogun state.
Problem with this article? Please contact us
---