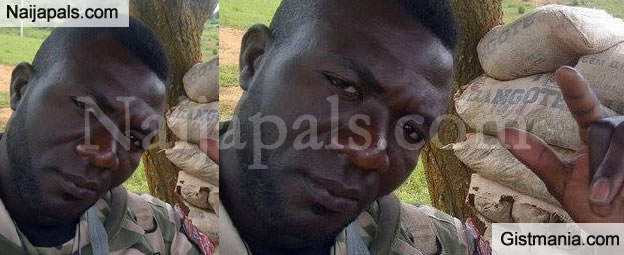 A man named Ikem Ohuku has recounted how he lost a relative who was a Nigerian soldier to the Boko Haram onslaught that has claimed over 17,000 Nigerians since 2009.


The late Uchenna Agbo
Read the touching short story by Ikem Ohuku who lost his loved one to the inadequate weapons provisions by the Nigerian army in the fight against Boko Haram insurgency:


Quote

This young man pictured above was a third cousin of mine. His name, Uchenna Agbo. His friends called him EPELINGO. After secondary school, he elected to serve in the army.He was posted to fight Boko Haram in Borno State. Epelingo had no access to sophisticated weapons. But he kept telling our people he was committed to fighting the war till it ends. At the time, Olisa Metuh and Dasuki plus Anenih and Jim Nwobodo et al, were sharing the money voted to equip him so he can succeed in liberating that beleaguered corner of his fatherland. One day, his troop was overwhelmed by the superior firepower of Boko Haram. Uchenna died. His ageing mother is still mourning. So is his only brother, Nnaemeka and a host of us who are his relations. But Olisa Metuh is alive and well. Fighting for how he is going to NOT pay his share of the blood money. And fellows are here screaming human rights and protesting that Metuh was placed on handcuffs. I used to chat with Uchenna at least once a week on Facebook. I will never get to do that. You see why I am angry? I will give 5000 handcuffs to have this my brother back!!!!!
---