This just came in from a fellow Naijapal, I thought I should share it on here, read it below.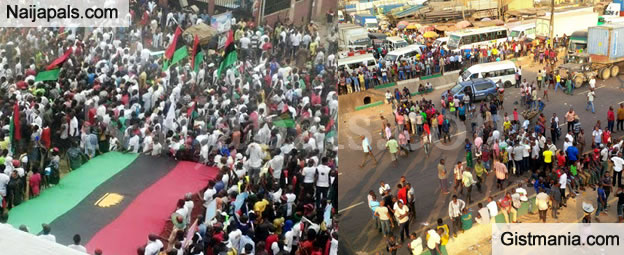 Quote
My friend and some of his colleagues left Lagos for Anambra state yesterday for his traditional wedding which will be taking place today at his wife to be home town.
They hired a bus which will take them down to the exact place they are going and also bring them back. According to my friend, he told me that they arrived Asaba-Onitsha road that linked to Onitsha main bridge as early as 1pm yesterday but couldn't access the bridge due to Biafran protesters. He said the entire bridge was taken over by Biafran protesters and the only way to access the bridge is to hang Biafra flag on your vehicle and all passengers are forced to buy Biafra flags, fly it and shout Biafran before they can be allowed to pass through a public bridge which was built by the federal government which they want to break out from.
As if that's not enough, my friend told me how embarrassed he was in the midst of his colleagues from other tribes seeing how his people are behaving like touts forcing people to shout Biafra against their will. Pls, is this a peaceful protest?
Not only did they stop at that, he narrated that the driver of the bus they hired was also forced to curb out a whole N5,000 as contribution to Biafra struggle else, his bus will be panel-beaten to a different shape. So also were all other bus and car owners forced to pay money, buy Biafra flags and shout Biafra before they were allowed to cross the Onitsha-Asaba head bridge. Is this not madness mixed with some high dose of stupidity? Forcing people against their will is not only madness but criminal and the Police need to wake up and deal with this touts using maximum force and if the Police are finding this situation difficult to manage, the military should pls take over and apply all force within their power to bring this situation under control.
We can't have a different country flying a different national flag inside a sovereign nation. That's a criminal offence or at best its a "treasonable felony".
My friend said, they managed to cross the Onitsha-Asaba head bridge which ordinarily is suppose to take them less than 10min, took them over 7hours while shouting "Biafra" and flying Biafra flag against their will as they pass slowly on Onitsha-Asaba head bridge.
Though, am happy that Biafrans are now grounding their economy by blocking all roads leading to their region, closing shops of all traders that boost their economy, sending bad message to potential investors both foreign and local and making lives unbearable to their fellow brothers. Who dem dey do? No be me but themselves!!!
Many Igbos living abroad are cheering this gullible Biafra protesters via the internet with beautiful articles but this Igbos abroad are not suffering and passing the pains those in Nigeria are passing through now. If the worse happen, none of them will be affected as they are all domiciled in foreign lands but the gullible ones will be the one that will die for no just cause?
Posted: (4 years ago) on 3-12-2015 12:29 PM | Hero