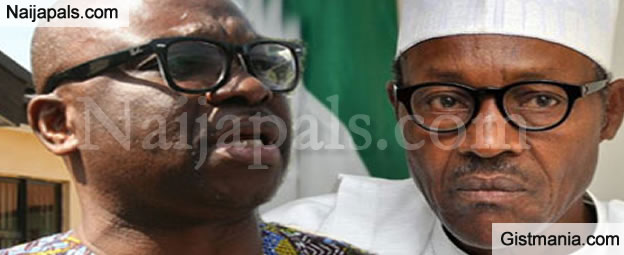 Ekiti State Governor, Ayodele Fayose, has insisted that the release of 82 Chibok girls by Boko Haram is aimed at diverting attention from President Muhammadu Buhari's health. In a statement released by his Chief Press Secretary, Idowu Adelusi, Fayose said Buhari resorted to "flying dubious kites and selling cheap dummies" to distract the people. The Governor also insisted that the Chibok girls were not abducted.
"What is not missing cannot be found… discerning Nigerians understand that the stories do not add up. "Right now, a matter of urgent national importance arresting the attention of all and sundry is that of the president's health. "While I continue to pray, in conjunction with other Nigerians, for the president's quick recovery, I condemn without equivocation this shameless playing on the intelligence and psyche of Nigerians taking undue advantage of the vexed issue of the so-called Chibok girls. "It has become the style of this government to distract attention but the truth will be told some day. "The questions are: Which Chibok girls are they talking about? Chibok girls who purportedly were writing Physics WAEC examinations but cannot speak simple English? Chibok girls who were shielded from the media? Till today the media have not been allowed access to the so-called Chibok girls.
"When is the next batch of Chibok girls coming? When is the next make-believe? "When there is the need for another cover-up, distraction and diversion of the people's attention and focus, they will fly their usual kite and sell the self-same jaded dummy," he said.
Fayose said it was sad that Nigerians refused to heed his warning on not electing Buhari.
"It is very unfortunate that we brought ourselves to this sorry pass. I sounded warnings which, unfortunately, were not heeded. "The intolerance of this government and the way they are trampling people's rights, and abridging their freedoms and liberties bring echoes of the dictatorship and autocracy of Gen. Buhari's first coming in 1985.
"But, then, there will be a new dawn for Nigeria very soon. Keep hope alive because there will be a new dawn in our country sooner than later. The hunger and suffering in the land are at an unprecedented level right now while the cluelessness and incompetence of this government beggars believe", he added.
Buhari has left the country again after 59 days, for further medical check-ups in UK.
---
Posted: at 8-05-2017 01:58 PM (4 years ago) | Hero